Services
Companion Animal Services
Keep your pet healthy and happy by bringing them into Huron Veterinary Clinic for regular wellness checks.
Farm Calls
Have a concern with the health of a farm animal or other large animal? We will come to you.
Surgical Procedures
Whether your pet needs routine or emergent surgical care, our staff is prepared to operate at all hours with relatively short notice. From spays, neuters, lump removals, to orthopedic surgery... the doctors at H.V.C. are highly skilled to help your furry friends!
Laboratory Work
H.V.C. has the ability to run bloodwork for a variety of screening tests at our in-house lab, and we can promptly address and diagnose health issues if they arise. You can get your pet's lab results within 10-15 minutes!
Dentistry
We can keep your pet's oral hygiene in check with regularly scheduled dental checkups and cleanings. Stay tuned for promotions during the month of February, our "dental month!"
Private Cremation
H.V.C. offers cremation services in the event of a loss of a pet. Although gone, they will never be forgotten with their own urn for keepsake.
Huron Vet Clinic Services:
Vaccinations
Wellness checks
Heartworm prevention & treatment
Flea and tick treatments
Geriatrics
Prescription pet food
We hope our services provide you with assurance that your pet is in good health. Don't forget to come by regularly to keep your pet pal in great shape!

We're pleased to offer the following services at Huron Vet Clinic: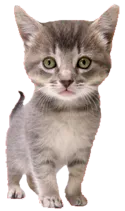 Our appointment book is computerized, which allows us to efficiently make appointments for you and your pet. Our receptionists and team will attempt to accommodate all requests to the best of our ability. Emergencies are accepted anytime our clinic is open. If you feel you have an emergency with your pet, please call us or come in immediately. If possible it is best to call before coming in so that a staff member can advise you on your particular emergency.
We have a veterinarian and personnel on duty five days a week who are trained and equipped to handle any urgent care your pet has. Usually an emergency team consists of at least one veterinarian and several technicians working together to save a pet's life. Emergencies can be things such as accidental ingestion of rat poison, hit by car, and chocolate ingestion. If you ever feel that your pet needs emergency treatment do not hesitate to call. If this is an after hours emergency call and leave a voicemail with your information and issue with your pet. ***Currently Emergency services are ONLY for current clients of Huron Veterinary Clinic.
We are also available for urgent care when the condition is not life-threatening. If you feel your pet needs to be seen before you are able to get an appointment, our veterinarians will work to "squeeze" you in between scheduled appointments. When you arrive, our receptionists will be able to give you an estimate on how long you may have to wait in order to be seen.
Dogs
Cats
Rabbits
Pocket Pets
Reptiles
Birds
Farm Animals*
*Contact us directly for more information on types of animals seen.
Huron Vet Clinic offers discounted services to local area rescue groups. Pre-approval is required to qualify for the rescue group discounts, please call us for more information.